Magnum Research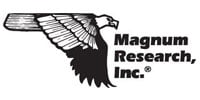 Founded in 1979, Magnum Research, based in Fridley, MN, produces the popular Desert Eagle line of pistols, as well as revolvers and rifles.

MRI offers custom gunsmithing services and has a unique line of guns that are coated with Titanium Nitride in artful patterns and designs. The newest TiN coated gun comes in a "Tiger Stripe" pattern which was developed by a coating company in Southern California.

Magnum Research also imports the IMI/IWI Jericho 941 series of pistols under the Baby Eagle name. For a time they also imported the Barak SP-21 pistol, but it is no longer offered. Other products include the BFR series of single-action magnum revolvers and the Mountain Eagle and MagnumLite rifles.