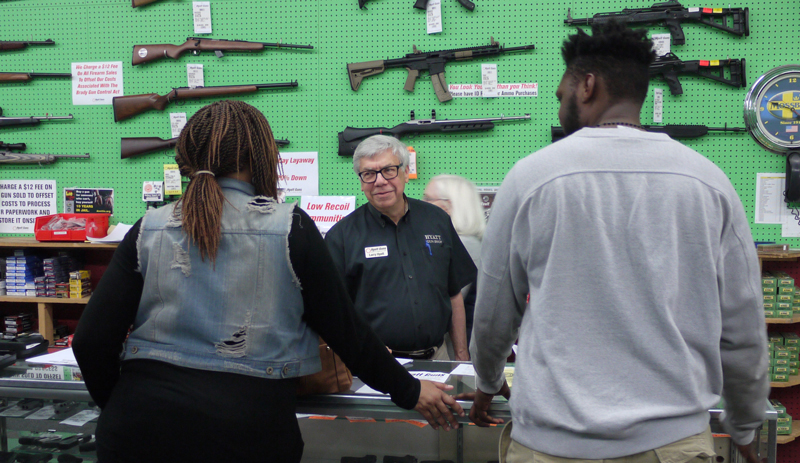 Hyatt Guns is America's Largest Gun Shop…in business since 1959
Hyatt Guns employs the best in the gun business with combined firearms experience second to none in the industry.
History…
Hyatt Guns was founded by William "Bill" Hyatt as a small coin store in 1959. Bill's son Larry came on board early on and remains at the helm of Hyatt Guns to this day. Indeed, Larry's son Mitch is carrying on this family tradition, and currently three generations are active in the business.
Our beliefs…
Hyatt Guns is a customer-first business and we strive to offer the best level of customer service possible. This is part of every phase of our business; whether it's assisting our customers through the process of selecting the right firearm for them, handling special orders or simply returning phone calls and emails.
Our people…
Our staff has a combined experience of more than 100 years in the firearms industry. We are friendly and we always go the extra mile to help our customers.
Larry Hyatt is the owner and president of Hyatt Guns, and brings more than 40 years of gun industry experience to the table. In fact, the media has caught on to this fact, and Larry has been featured in Fortune Magazine, CNBC, The Christian Science Monitor, Bloomberg News and many other outlets. Yet Larry remains true to his roots, whether he's talking to customers in our retail showroom or herding cattle on the family farm.
Why Buy from Hyatt Guns?
Expertise – Over 50 years in business. Many big box stores run on a spiff system to move particular guns that help their bottom line. This results in you getting a gun that may or may not work with you. Our staff has the experience and the know-how to make sure you get the right gun for your needs.
Family Business – We are a third-generation family business. The owners are always on site and ready to help you and deal with any issues that might arise. You really don't know with whom you're dealing until you have a problem. Many of our valued customers came to Hyatts because other retailers would not help when a problem occurred. The Hyatt Family cares about you.
Easy Returns – Other gun shops, pawn shops and big box stores use gun laws to avoid the cost returns, exchanges and repairs to the guns they sell. We don't hide behind regulations make the return and exchange process as easy as possible.
Gunsmithing and Service On Site – Why would you buy a gun at a place that doesn't service guns? We have the largest gunsmithing and repair department in the Southeast with nine gunsmiths on staff that can handle everything from warranty repairs to full on custom guns. In addition, we offer a full line of customization services, from frame stippling and night sights to Cerakote and Duracoat.
Customer Service – Many gun shops have that "gun guy attitude" and we believe this is exactly what is wrong with the gun industry today. The old fashioned "service with a smile" is what we offer here and we go the extra mile to ensure you are a happy customer. Sometimes we make mistakes and we always own them and make sure you are taken care of.
Widest selection in the United States – Over 7,000 guns in stock at any one time. We usually have the guns that other dealers cannot get. We have the largest used inventory in the area, as well allowing you get the collector gun you're after, as well as a value priced modern firearm. In addition, we are a member of the largest buying group in the country and relationships with every major distributor, so if we don't have it, we can usually get it.
Payment methods – All major credit cards, cash, check and layaway available. We take every major credit card, debit, cash, checks and we offer a 90-day layaway program.
We are a gun specialty store. Unlike some of competitors, you don't have to make your way through clothing, fishing gear and boat sales to get to the gun counter. We sell guns and gun accessories, choosing to specialize in selling what we know best!
We hope you enjoy your shopping experience here. If you have any questions, please feel free to contact us via phone at 704-394-0387 or email at sales@hyattguns.com.
Or, if you're in Charlotte, please come visit us! Please click here for directions.