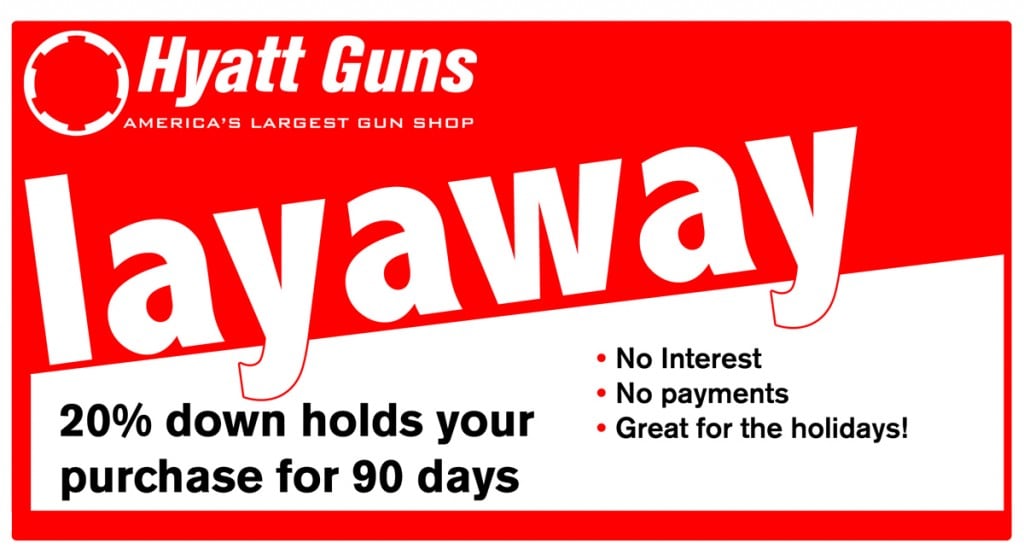 Hyatt Guns' layaway plan is simple and easy and allows you to pay for your purchase over time. Simply place your order online as you normally would, and select "Layaway" under the Payment Method. Items eligible for our layaway plan will have a blue button that says "Layaway Available for this Item." Upon receipt of your 20% non-refundable deposit, we will take the item out of our inventory and activate your 90-day term. All layaways are subject to a $30 surcharge.
During the layaway period, you can either make several payments, or just make one final payment at the end of 90 days, at which time we will ship your item or it can be picked up in our retail store.
Special orders: You can do a layaway on special order guns. Your deposit will be processed and your layaway period starts when the gun comes in.
Making payments is simple. Just login, click the My Account tab and click Layaway Orders.
We regret that under no circumstances will your layaway be held longer than 90 days.
If we haven't received payment in full when your 90-day term expires, your layaway will be canceled and NO payments will be refunded.
Items on a layaway cannot be changed once the deposit has been received. If a layaway is canceled for any reason or goes further than 90 days, no refund will be given.

Authentication