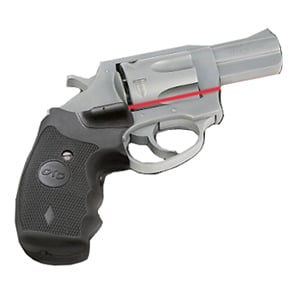 Crimson Trace Laser Grips for Charter Arms Revolvers
The LG-325 Lasergrips fit all small and large frame Charter Arms revolvers to date, and feature our comfortable rubber overmolded material for improved grip control. The instinctive front-activation switch instantly projects the bright red dot onto your target when you take your natural grip on the gun; eliminating potential for error when you need to be at your best.

Fits Models: .38 Special, Mag Pug, Undercoverette, Bulldog, Pathfinder, and Patriot
* should fit all large and small-frame Charter Arms Revolvers, except Derringers.

Order these at the same time as you order your new gun and our qualified gunsmiths will install them free of charge!


Authentication