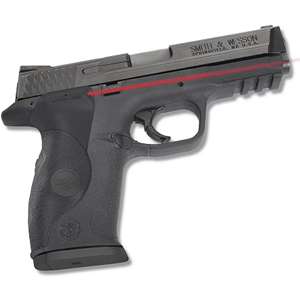 Crimson Trace Laser Grips for Smith & Wesson M&P Full Size Pistols Rear Activation
Our M&P Series Lasergrips for S&W pistols are interchangeable between different calibers of the M&P pistol and feature a hard polymer surface that's most closely matches the medium stock Smith & Wesson grip inserts. These lasergrips fit the M&P pistol just like the stock grips while offering a compact laser diode housing that's well suited to most carry and duty holsters. They also feature a rear-activation switch that's part of your natural grip so there's no fumbling to activate the laser with your trigger finger.

Fits Models: Full Size M&P Pistols: M&P .357 Sig, M&P .40, M&P 9mm, M&P45 - Black
* Does not fit Compact or Ambidexterous Safety models.

Order these at the same time as you order your new gun and our qualified gunsmiths will install them free of charge!


Authentication