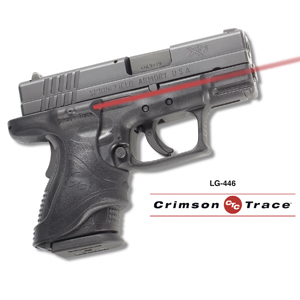 Crimson Trace Laser Grips for Springfield XD Pistols, Front Activation, All Frame Sizes
XD Lasergrips feature a remarkable new design concept to incorporate a laser sight into a polymer pistol. This revolutionary design encircles the polymer grip of the XD and is anchored in place by a locking piece that covers the beavertail, leaving the key ergonomic characteristics of the XD in place.

Fits Models: Springfield Armory XD Fullsize, Compact, and Sub-Compact in 9mm, .357 SIG, .40 S&W, and .45 GAP
* except .45 ACP


Order these at the same time as you order your new gun and our qualified gunsmiths will install them free of charge!


Authentication