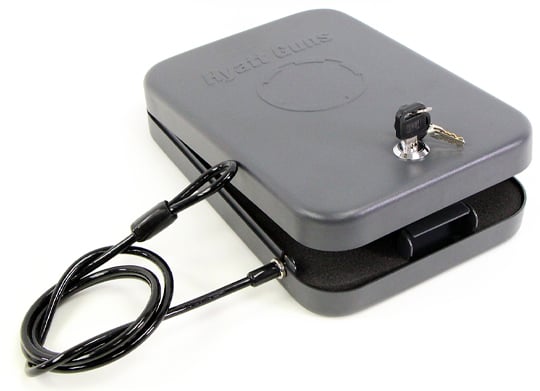 Hyatt Guns Joins Push to Encourage Gun Owners to Secure Firearms
Charlotte Gun Shop selling in-car gun safes at below wholesale cost
CHARLOTTE, NC (10/20/2020) – With the news that thousands of guns have been stolen this year out of vehicles, Hyatt Guns is kicking off an initiative to encourage gun owners to secure firearms from unauthorized use. Beginning tomorrow, the SnapSafe XL handgun safe will be on sale for just $15.
"Firearm sales have been at historic highs over the last several months and that has led criminals to expand their activities to steal unsecured guns from vehicles," said Hyatt Guns owner Larry Hyatt. "These guns are then resold on the black market and are often used in crimes.
"As responsible gun owners we think this is unacceptable," added Hyatt. "I want to ensure that all gun owners can lock up their firearms, so, I'm selling our most popular small gun safe at below cost to make them affordable for everyone."
The SnapSafe XL features a durable and pry resistant 16-gauge steel construction. The included steel 1,500 steel cable secures the safe to the seat frame and allows to the safe to be easily tucked under a car seat. The foam-lined interior will accommodate most handguns. These safes are also TSA rated for securing firearms during air travel.
The promotion kicks off Wednesday, October 21 and will run until October 26 or when inventory runs out. Safes will be available at Hyatt Guns' retail location at 3332 Wilkinson Blvd in Charlotte. Limit two per person, please, so we can allow as many people as possible to secure their firearms.